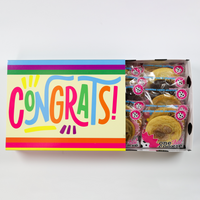 Congrats! Boxed Cookies by the Dozen
Our full-size traditional cookies are individually wrapped preserve freshness and provide a level of sanitation in group events so you can spread the cookie love without spreading germs! Sold by the dozen and packaged in our bright and fun Congrats gift box.
Your choice of flavors:
Chocolate Chip
Chocolate Chocolate Chip
Sugar
Snickerdoodle
M&M
or choose an assortment and we'll mix things up!