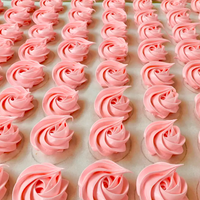 Bulgarian Rose Meringue Rosettes
This is a classic flavored crisp meringue; perfect for those looking for gluten free treat or non-chocolate confection. These crisp sweet snacks can be enjoyed on their own, with a finely brewed cup of tea or can be layered with yogurt or whipped cream and raspberries to create a unique dessert. This item is Dairy Free, Gluten Free, Grain Free, Nut Free, Low Fat, and contains no artificial sweeteners or preservatives.
Packed in sets of 5.